On 18 June 2019, we held a Hackathon in partnership with Cardiff Metropolitan University at their Llandaff campus. 50 students, studying BTEC/A levels in IT/Computer Science, in the Cardiff area were placed into 6 teams and given a data challenge.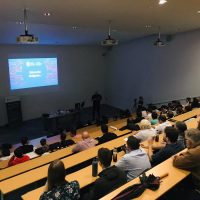 The hack topic we provided was based around the ever-popular Marvel films, using our internet usage data. We gave each team with a table showing internet activities by age, sex and disability status, and then asked them to imagine themselves as the CEO of a marketing company who has been commissioned to promote the new Marvel Avengers film. They needed to put together a 2 minute pitch showing what online channels they should use as part of their marketing campaign, and how they came to that conclusion.
It was a short but intense day – kicking off at 9:30am and finishing by 2:30pm to fit with school hours. We started with some background on Cardiff Met digital and tech courses and an introduction to the opportunities at ONS. We demonstrated the role we play and examples of digital and technology projects, including developing the first digital-first census in the UK. Following introductions, the students split into their teams and started the hack. They worked in small teams to make decisions based on the data provided and facilitated discussions about the limitations of the data set. The hack introduced how data is used in decision making and how data sets can complement one another to provide a more rounded view. Once each team had come to some conclusions, they were asked to develop a pitch, making decisions based on limited data and focusing on the limitations and where more insight would prove useful. After a quick lunch the teams had an opportunity to put the final polish to their presentations, and then it was pitch time!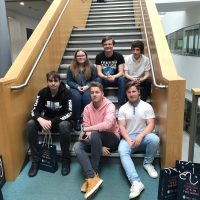 Each of the teams stood at the front of the lecture theatre and presented to their peers – which was no mean feat! They were clear, surprisingly calm and very insightful in their work with the data, and luckily everyone came to similar conclusions! The winners were "Team Stark" from Aberdare Community School, who gave an impressive presentation that walked us through their thinking on how to approach the task, the work they did to achieve their outcomes, and an evaluation of their methods.
Gareth Jones from Cardiff Metropolitan University said "For the first Hackathon event at Cardiff Metropolitan University, the ONS provided the perfect partnership. We had a fantastic group of students attending and to have the onsite support from the ONS team was a great addition to the day. Students seemed to be engaged and genuinely interested in what they were doing, which was evidenced in the presentations they presented at the end of the day. A great event and a brilliant start to the Cardiff School of Technologies student event calendar – I'm sure the Hackathon will become an annualised session!".
Supporting students to take further study in digital, data and technology subjects is important to us at ONS to ensure the right skills and knowledge are available to employers in the future. Our involvement with this inspiring event was to demonstrate our support for students into degrees and hopefully, eventually into employment. We recognise, like many organisations, the difficulties in recruiting for digital and technology roles in our geographical area, so it's important as an organisation we join forces to grow the best.
We're excited to host more events with Cardiff Met, and working more to engage our potential workforce. If you'd like more information, email sarah.evans@ons.gov.uk