The statisticians who tweet
"Oh, you work in social media at ONS. Does that mean you just tweet out the statistics?"
That's the typical response I get from people when I'm asked what I do for work.
My typical answer: "Actually no. The colleagues in my team are largely responsible for that part of social media. My job as Social Media Manager comprises two responsibilities 1) I help to develop our network of tweeting statisticians (TS) and 2) I develop content for the Twitter recruitment channel."
Tweeting Statisticians
Did you know that on Twitter we have a network of what we refer to internally as 'Tweeting Statisticians'? The role of our Tweeting Statisticians(TS) is to provide the public with a face to ONS' statistical departments and provides the public with a chance to ask the expert a question directly. Being a TS also provides another way to raise the profile of their statistical output and to publish additional insight.
Publishing content like this on Twitter helps a TS build a niche but sometimes large audience following, often including influencers such as media organisations, journalists and other experts.
During the six months that I've been working in this role I've held workshops with TS and provided recommendations for content, as well as guidance on best practice.
Key developments in the last 6 months
We have obtained Twitter verification for 7 TS accounts, that's the blue tick you'll often see next to an account's handle. It adds authenticity to the individual's account, flagging the account as a trustworthy source. Like this:
The largest increase in followers for a TS came from @StatsChloe (rocketing from 20 followers to 1,808, as a result of one retweet to our main account.
The overall engagement for all TS over this time increased by 41%.
This was largely due to the promotion of content from tweeters such as; Rich Pereira who has committed to a #PopStatOfTheDay for the whole of 2019 and Fraser Munro who tweeted articles explaining statistical releases.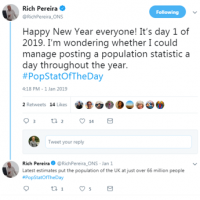 Recruitment channel
The other 50 percent of my time at work is spent developing content for the ONS's recruitment account on Twitter.
Since starting in the role I've managed to implement a consistent flow of regular, relevant content. This has consisted of a combination of job ads and a series of blog posts relating to work life at ONS. These posts are published by ONS staff on their Linkedin blogs, and reshared on the ONS recruitment Twitter channel.
The most successful article was published by David Freeman and has had 532 views, 81 likes, 10 comments and 11 shares. David has also made new connections as a result too. Feel free to boost those analytics further by giving it a read!
In this time URL traffic as a result of tweets has increased by over 500%, and the account has had a 25% increase in followers.
As well as developing written content for @ONSrecruitment I have also worked closely with the ONS graphic design team to introduce job advert templates that are clean, modern and attractive.
Future plans
I plan to build on these successes and am prioritising growing the following of all accounts. As well as this, I'm keen to further develop the TS accounts by identifying more opportunities for them to network and expand their reach on Twitter with both release and awareness day content.