Finding your tribe: Data journalism voices from NICAR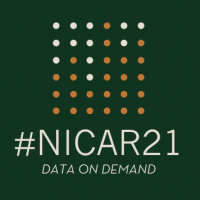 Not so long ago, data journalism was regarded in many newsrooms as a bit 'sciencey', niche and nerdy and certainly not commonplace.
Fast forward a few years, and data journalism has since become a thriving global community.
Such has been the world-wide impact of data-driven investigations such as the Panama Papers, many outlets now have data reporting departments.
Data journalism skills such as scraping, analysing, filtering and cleaning data sets, have become a must-have for those outlets.
The ONS data journalism team was first assembled back in 2015, to produce engaging, newsy content for the inquiring citizen user to better understand complex government statistics.
The team has grown since then, and with it our ambitions to produce more content for our target readership, requiring regular skills updates.
The annual US-based National Institute for Computer Assisted Reporting (NICAR) is arguably the dog's doodahs of data journalism gatherings, not only from a networking perspective, but also for furthering knowledge and training. They've been doing it for much longer than we have in the UK.
The pandemic meant no-one was able to fly over to Chicago this year to enjoy the spectacle of hundreds of data journalists, data analysts, data scientists and data other-things-ending-in-ists revealing their tips, tools and trademark moves.
So the conference went online – a decision that meant it was viable for the ONS data journalism team to attend. Other attendees must have made the most of the drift to online, because this year's NICAR conference broke all attendance records, with 1,650 journalists, teachers and students coming together from around the world to learn, share and network.
Holding panels and talks via Zoom made for more responsive feedback, as we were able to submit queries into a live chat at any point, rather than having to raise your hand, wait for a microphone, and then – shudder – speak into it.
Panels on spotting potential social inequalities in data and how to meaningfully present data about marginalised communities provided useful inspiration for possible avenues of investigation, even if the practical tips provided were very USA-specific.
The most valuable aspect of NICAR was being able to update our knowledge on what the wider data journalism community was working on. There was a panel on using data to report on climate change, a discussion on why data journalism skills are fundamental to creating equity and diversity in newsrooms, and a presentation on lessons learned from a year of working with COVID-19 data.
This pandemic has turned us all into health reporters of sorts,  so having the chance to reflect on the advice of people who have been in the business for many years was informative. Again,  many examples were very specific to America, but some of the social aspects such as vaccine hesitancy and data reporting techniques were as relevant in other countries.
A panel on  developing resilience against the disinformation disorder featured speakers from First Draft, Harvard University and the Knight Centre.  It went into depth on how disinformation systems flourish and how they have done so during the coronavirus (COVID-19) pandemic.
One of the goals of ONS's data journalism team is to present statistically-sound facts in an understandable way, to build confidence in the trustworthiness of the information. This panel showed how important quality statistical reporting is, especially in the context of the coronavirus pandemic.
And while it was undoubtedly valuable watching the likes of the FT's Max Harlow combine data sets containing names that were spelled differently, but were in fact the same people (fuzzy matching), revisiting and re-considering our approach to statistical reporting with Jaimi Dowdell of Reuters and Jennifer LaFleur of the Investigative Reporting Workshop, seeing Datawrapper demonstrate the customisability of their data visualisation tools, or listening to Ben Welsh of the LA Times take us through how to get started in coding, the true value lay beyond the conference itself.
A virtual NICAR has opened up the possibility of accessing a wealth of knowledge, experience and support to add to what we've learned to date. It will be an invaluable source of information available for the next year, thanks to membership of Investigative Reporters and Editors (IRE), which is mandatory to access NICAR.
The conference's best legacy is the many practical labs provided as part of the event. Our tickets provided us with a year of access to many in-depth tutorials on important skills such as data wrangling and visualisation, as well as programming languages like R and Python, which our team have been working towards incorporating into our day-to-day work. These courses, created by other data journalists, will help us develop ourselves and our skills throughout the year.
These resources will allow us to do more advanced, preparatory work on our articles, exploring our vast datasets and determining the feasibility of a project at an early stage or accessing and merging datasets from external sources to supplement the findings of ONS's own research.
We have come away with new ways of improving our working knowledge of the tools that are out there to help us.
ONS data journalism team: Lisa Jones, Siobhan Palmer, Shanna Jones, Dan Wainwright, Anna Khoo, Phil Leake.