A week in the life of a census content designer
Earlier this year, I shadowed two senior content designers bringing Census 2021 to life.
In the world of census, nothing happens by chance. All decisions are made with users in mind. Every journey and piece of content undergoes research and testing to make it as intuitive and accessible as possible.
With the first iteration of the Census 2021 landing page recently published, now feels like the perfect time to share what I learnt during my shadowing week. Here is a snapshot of the census discussions I got to be part of.
Signposting to Scotland's census
The Office for National Statistics (ONS) is responsible for the census in England and Wales. Scotland moved their census to 2022 because of the coronavirus pandemic.
With the first iteration of our census landing page due to publish around the same time as the Scotland census launch, there were concerns that people living in Scotland would accidentally come to our website. We therefore made a commitment to signpost users to the Scotland census from our landing page.
The first thing we considered was whether our signpost should tell users to complete the Scotland census or find more information on it. In other words, what would Scotland users that ended up on our website be trying to do?
For example, users who live in northern England and work in Scotland could be researching whether they should complete the Scotland census at all. In the end, we decided signposting to general information about the Scotland census would encompass the needs of all Scotland users.
We then considered how the signposting should look, and where it should sit on the census landing page. We initially talked about creating a new grey stripe beneath the purple census banner. However, with the grey navigation bar and grey search bar already in place, there were concerns this could cause an overly "stripy" effect. This would be problematic for England and Wales users on mobile phones because it would require more scrolling to get to the page's main content.

We reviewed the options alongside the user research and chose to include the "Scotland and Northern Ireland censuses" signpost in the main content area alongside five other content panels. This would meet our obligation to Scotland users, without pushing content England and Wales users want further down the page.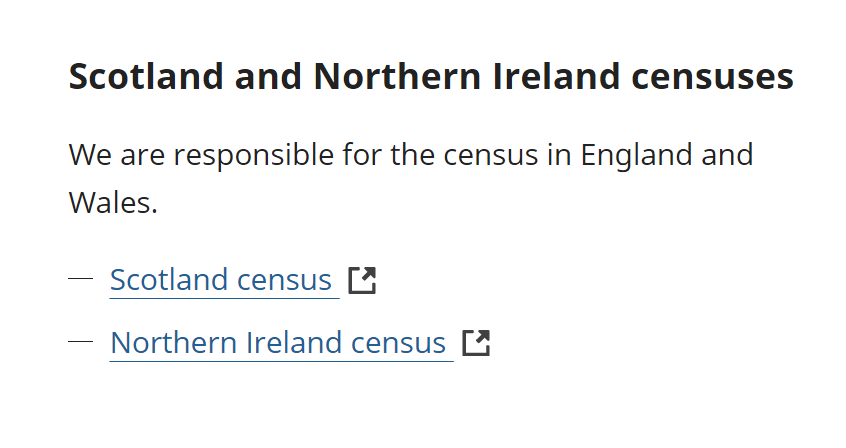 Finding a home for veterans 
Census 2021 was the first England and Wales census to collect specific data on veterans.
The term "Veterans" is technically correct in describing ex-members of the armed forces – but user research told us it was niche terminology that was not often used by our users. Taking this feedback on board, we named the new category "Armed forces and veterans" to be inclusive of ex-military members who do not identify as veterans.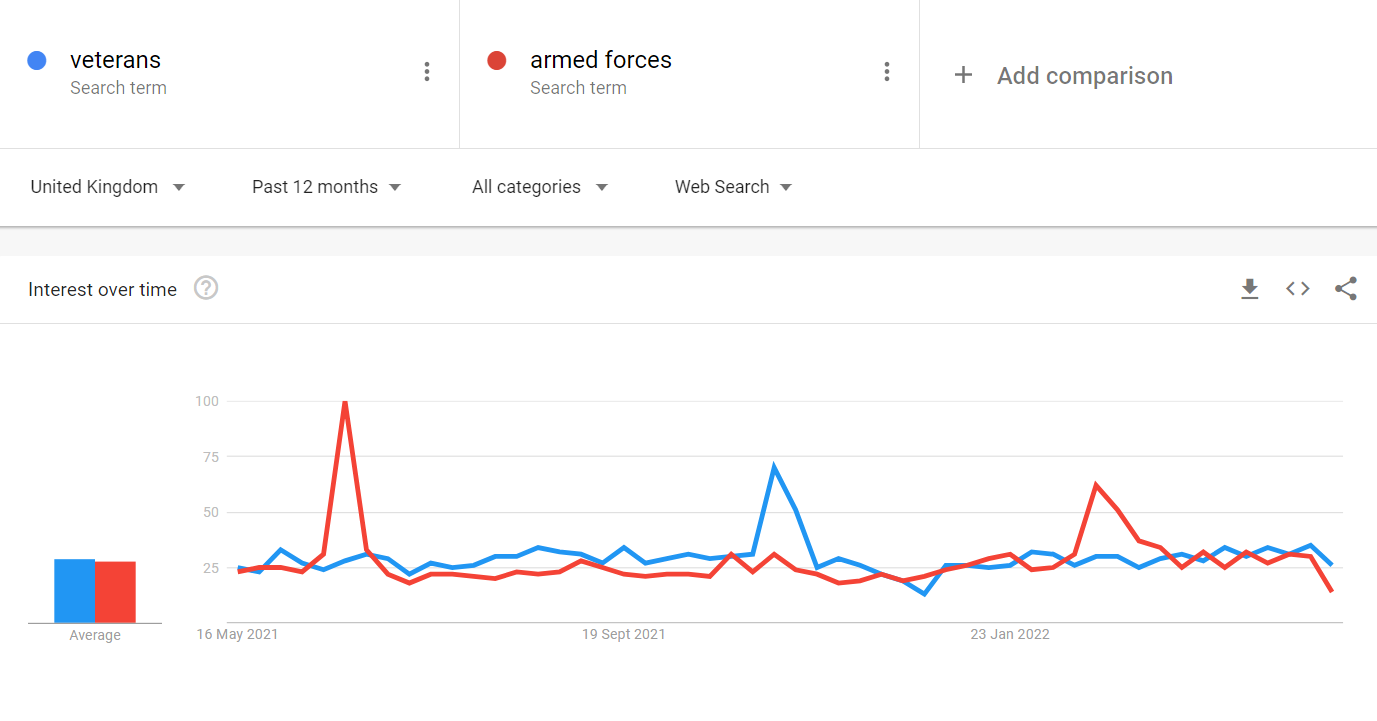 Because "Armed forces and veterans" have never had their own section on our website before, we also discussed what area of the website the content should be published on.
First, we discussed putting this new section in the "Employment and labour market" area of the website. However, many veterans could now be employed in different professions and might not think to look here for data on veterans.
User research also showed us that being a veteran is based more on identity than employment. Society generally considers veterans their own small community or population group. So, we decided to put "Armed forces and veterans" in the "Community" section of the "People, population and community" area of the website.
Optimising the census landing page
My week ended discussing how to improve the Census 2021 landing page before it launched in March 2022. In particular, we wanted to make the language in the main content area more user friendly.
Under the "Census releases" title, we originally had "Release calendar" and "Release plans". People found this confusing in user testing and did not understand the difference between the two. We could not change the name of the ONS-wide release calendar because it was already established with users as a section and URL of the website. So, we altered "Release plans" to "Timeline", making it clear this linked to when each phase of Census 2021 results would be released.
The "Get data" section title was also confusing for some users, who were clicking here to find Census 2021 data. Changing the section title to "Historical data" made it clearer this referred to data from the 2011 census and earlier.
Finally, we revised the "Need help?" section title. Users would already be asking themselves this question, so making the section title the answer would provide a helpful solution when scanning. We updated the title to "Contact us" – active language is more authoritative and tells users we can directly answer their query.
Shadowing Census 2021 has been one of my favourite ONS experiences so far. Knowing I played even the tiniest part in shaping such an important piece of content is an absolute privilege. A massive thank you to both Suzanne Donovan and Susanna Winstanley for making it happen!